Marketing Support Service
Marketing support service
In how to attract tourists visiting Japan, how should we attract customers and service? We provide marketing support specialized for inbound, such as advertising method, menu development, customer service and so on.

On the WEB site "TabePark !!", we provide services such as restaurants, experiences (Koto) etc. to more than 800 affiliated travel agencies, and we are offering services to act on behalf of customers, such as banner ads and text ads By using it, we are proposing a more effective appealing method.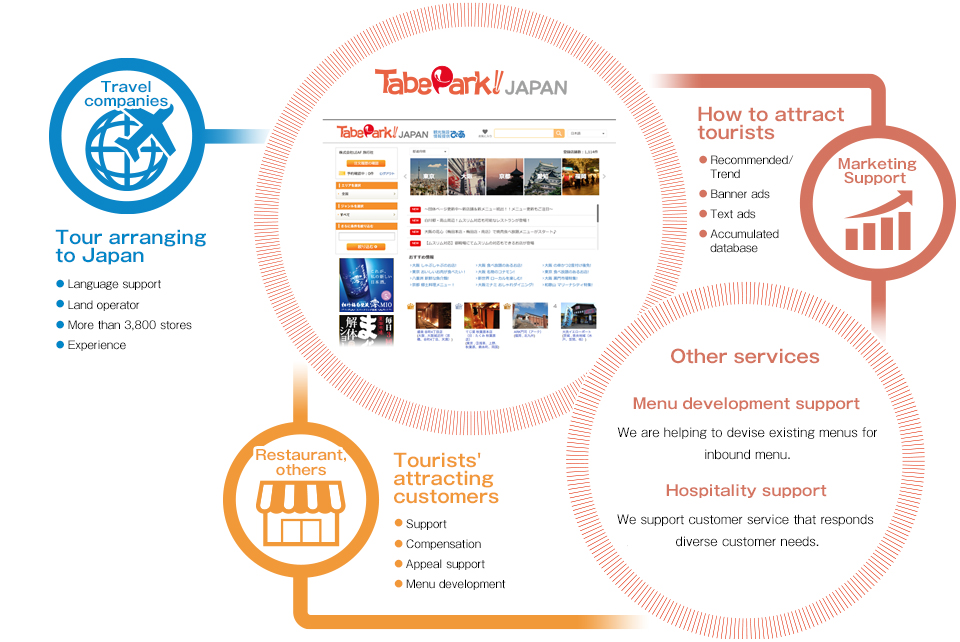 We are helping devise menus for inbound. We will develop menus that meet the needs of all customers, regardless of industry type, such as devising menus and trends utilizing existing menus of stores and measures to halal and vegetarian people.
TTabePark !! supports menu development tailored to the needs of all customers, regardless of the menu composition, price strategy, and industry type of business that are pleasing to visitors to Japan.

Contact

Please make a reservation from the telephone or inquiry form.
Shop survey · Interview and analysis

We will analyze existing menus from surveys of industry type, business type and location.
Analysis report and document preparation

We will devise a report that analyzes, a menu that takes advantage of existing menus and features.
Suggest

Proposal of menu specialized for inbound.
Cooking suggestions and guidance

We will provide cooking instruction for inbound menus and guidance for preparation.
Disclosure's Official Website

The Tabe Park application creates original apps for companies and shops, gathers customer information, creates application content from real time information creation, creates app content and gives points unique to the shop, various services with one application It is an application that can be offered.

In addition, we provide consulting services specialized in inbound,
such as customer service support that
flexibly responds to a wide variety of
customers' requests.